Collaborative workSPACE Design
This project strived to create a convertible, collaborative work space for the target user: millennials. The goal was to design an environment which fuels creative thought and makes the co-working atmosphere inspiring, connected, and focused.
In order to foster job fulfillment, I wanted to increase social interaction between
workers and provide an ideal space to work in, collaborate, and grow.
Research began by understanding the emotional connections that people have to their environments. The goal was to determine the key aspects that contribute to a "successful" work space - what it feels like, looks like, promotes, discourages, etc.
To get millennials talking about these qualities, I created an exercise in which the interviewees chose from a series of images and words to create a mood board of their ideal space. We then discussed what contributed to their space "working," from more abstract feelings to specific physical attributes.
Below is THE video story of the emotional research exercise I executed with different millennials...
the 5 design criteria I learned...
NATURALNESS
Millennials want to feel that they are in a non-synthetic environment. Natural lighting, greenery, and organic flow are large contributors to enhancing the mood of a space - creating warmth and a feeling of being alive.
"Natural light is a mood enhancer. And nature goes hand in hand with that - either having green things in the room or a view of something green creates this feeling of warmth and life."
INTERACTION / SECLUSION
A combination of interaction and seclusion are vital to a healthy work / non-work balance. Millennials want their space to accommodate the need for personal space, individual work, collaborative work, and community synergy. The ability to separate oneself, come together with others, and then separate again, creates excitement and the notion that we are a apart of a greater purpose.
"I tend to start my work alone, and then come back for feedback, and then go back
off on my own again. Its exciting to check back in and with something new."
FLOW
The space needs to have a sense of movement and order, without being too oppressive and stringent. It should promote both interaction and seclusion by guiding users through the space. The flow should create a sense of "soft division," while maintaining a feeling of openness and collaboration.
"A sense of movement and order, like 'the rules of the road'
- you need to know how to maneuver through the space."
COMFORT / DISCOMFORT
Millennials want options. There needs to be a choice when it comes to the physical comfort level of work areas, because different people work in different ways at different times on different projects. Comfortable break areas are also important.
"Comfort is a big thing, it makes me feel at home. But then there are times when I want to
be uncomfortable too - times I want to sit in a desk at a chair and not at a couch."
CONVERTIBILITY
The space should be flexible. They want the option to "play" with their space, and make it their own. Improvisation is an important asset in feeling comfortable and creative, so certain parts of the space should allow for movement and adjustment.
"I like being able to fool around with my space - make it my own. If I'm able
to adjust things to my personal use it feels more like my own space."
After discovering the commonalities amongst the interviewees, I began to design a layout for the space that encompassed all of the critical elements. I made multiple 2D iterations by using a scaled layout of my space and pieces of paper to represent walls and furniture. This style of iteration provided flexibility is development allowed for quick changes.
IDEA FOR a village center...
I thought about the concept of the "town square" as a designated place for interaction. The village center is thriving - full of people, activity, and life. I wanted to incorporate this idea at the center of my layout - making it accessible, and a welcome necessity to daily life in the space.
The goal of the layout was to provide separate individual and team spaces, but then to guide every person's path through the larger village center as they went throughout their day.
After deciding on a layout, I developed various user personas to understand how they would use the space. I traced their movement throughout the day to see what rooms they would use, and to make sure that they were traveling through the village center at some point for interaction.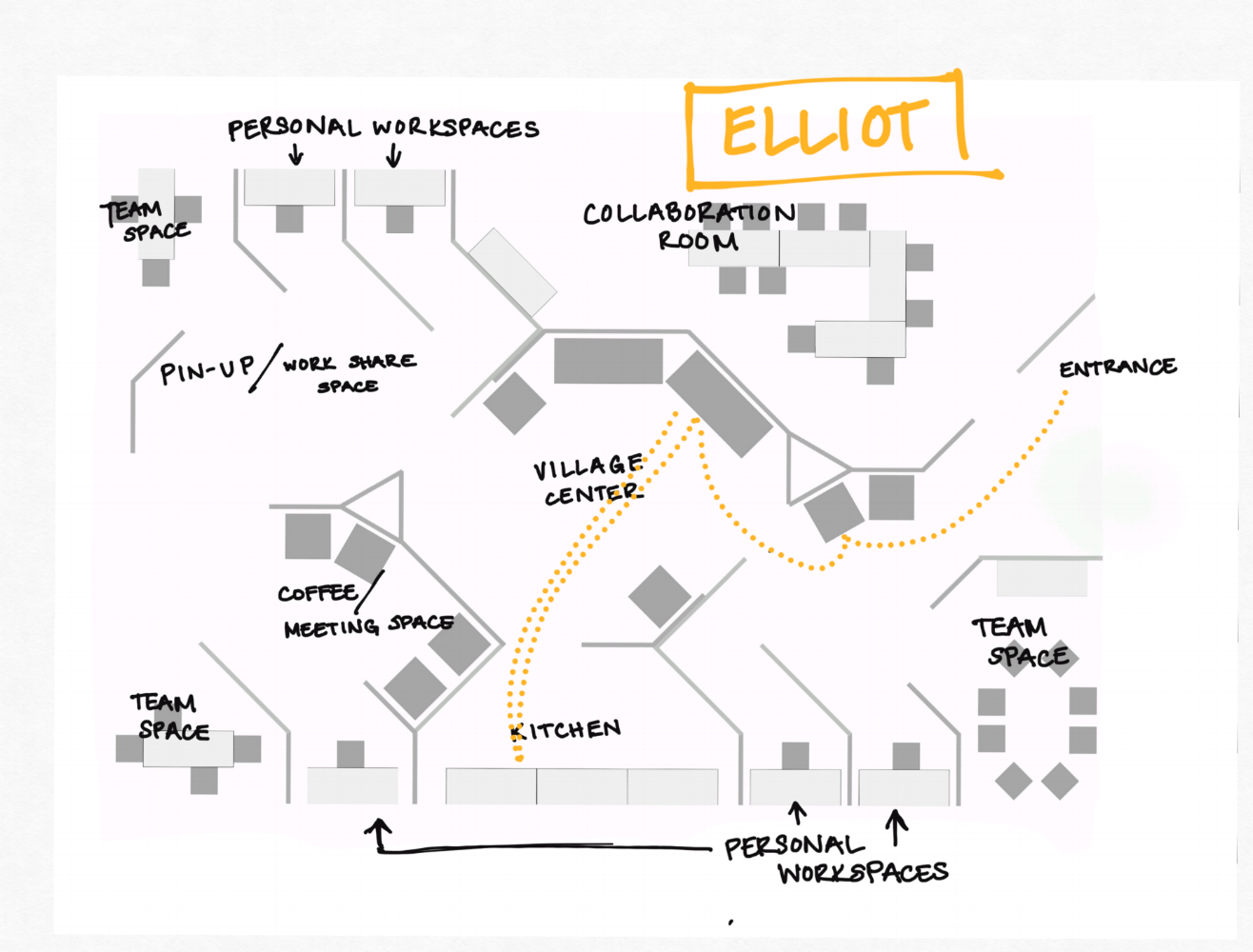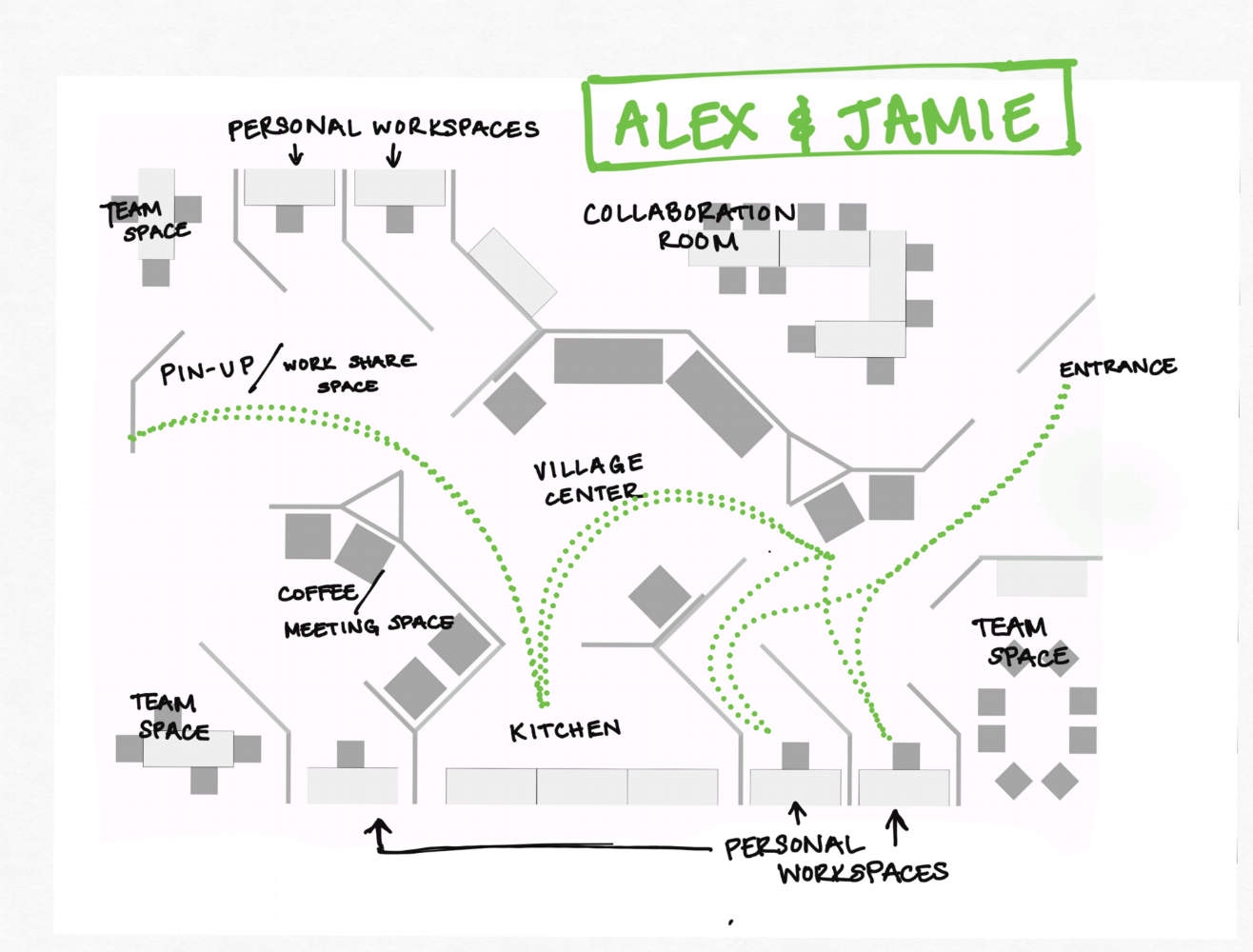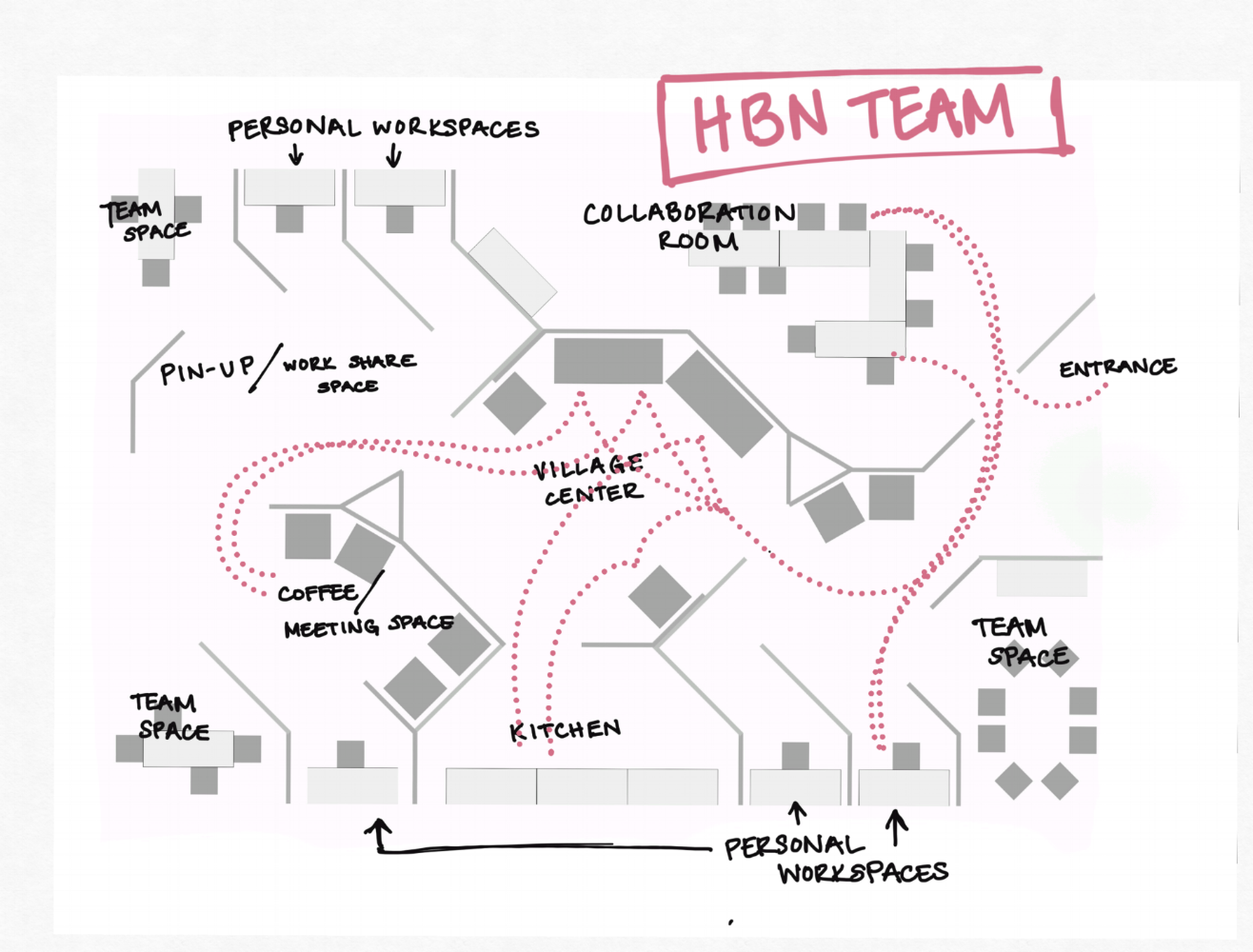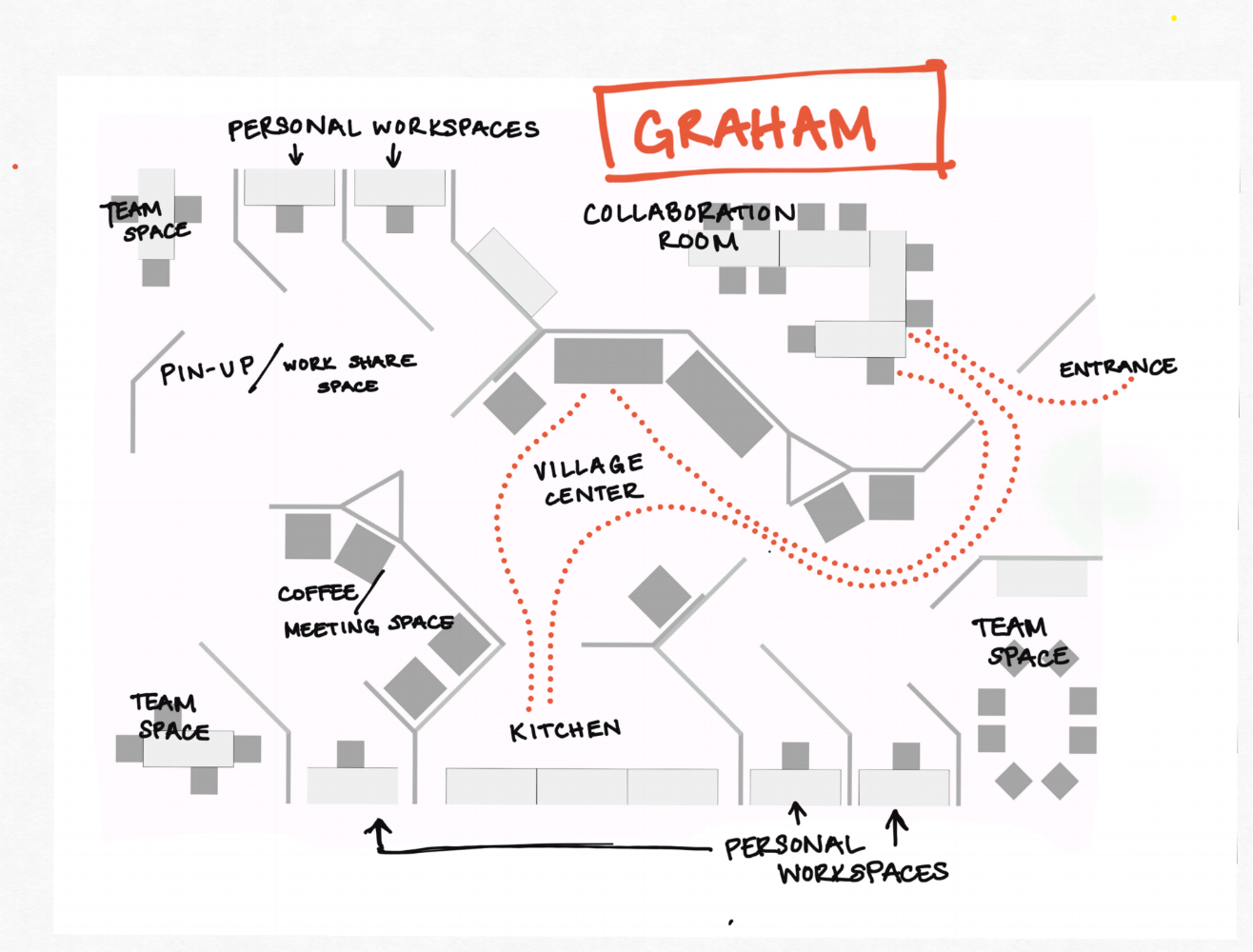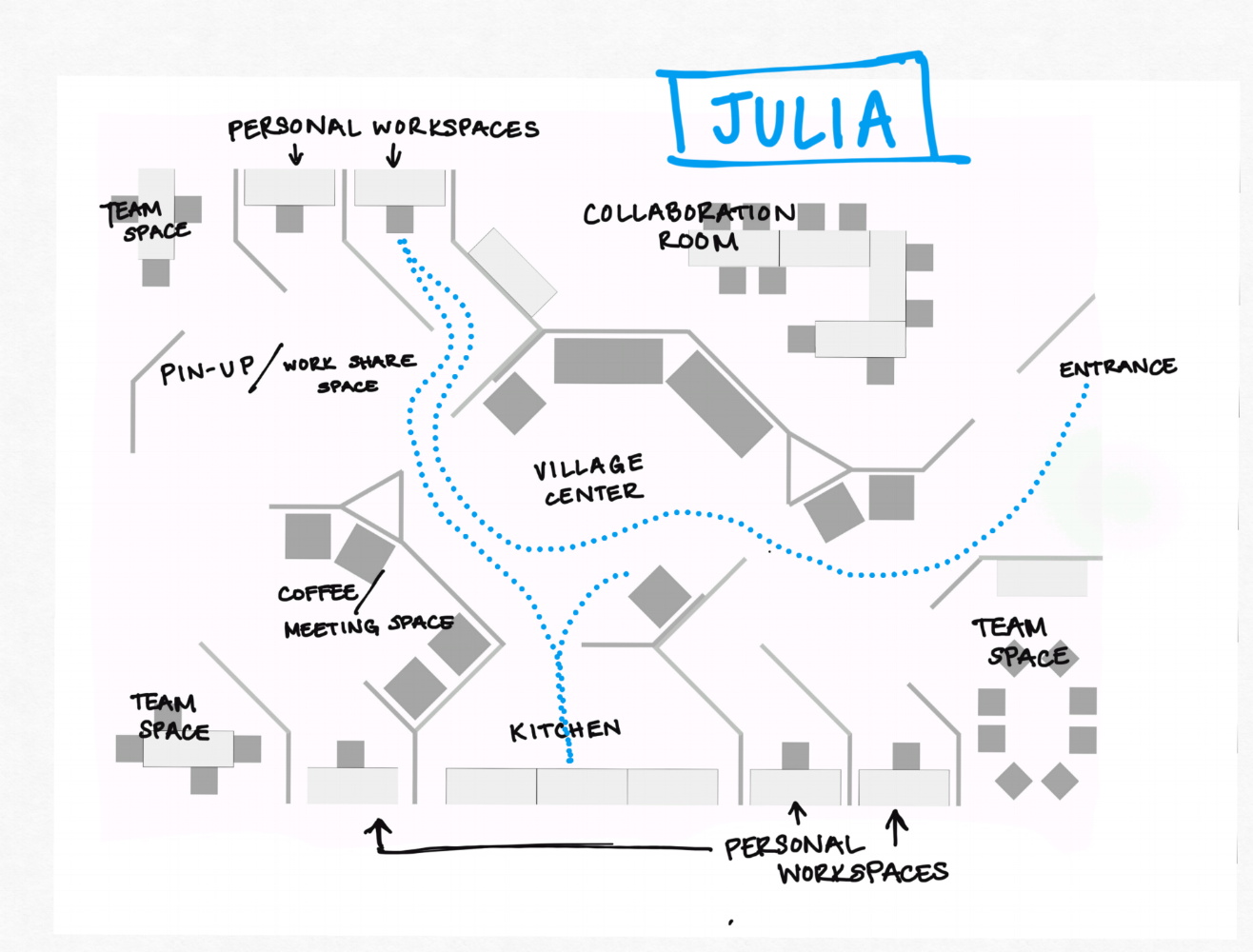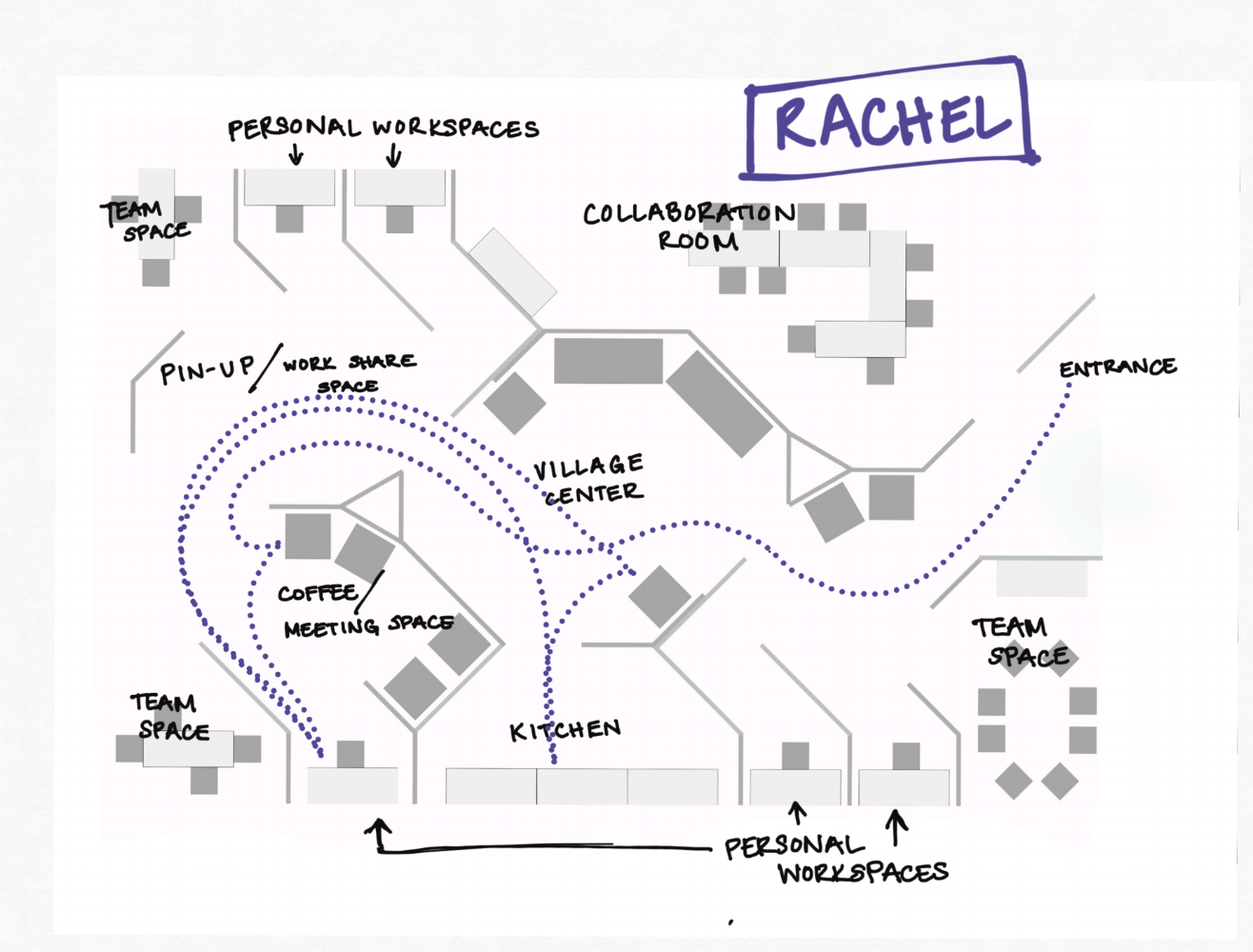 The next phase of this project was prototyping the space. After iterating 2D versions of the space, I built a full scale 3D prototype of the collaboration space. The goal of this exercise was to observe the flow of the space. I wanted to understand if the layout felt organic, encouraged a proper balance of interaction and seclusion, and allowed for different preferred levels of comfort and discomfort. Additionally, I wanted to know if users found the convertibility of the space valuable. Information for this exercise was gathered through observation, a feedback wall, and interviews.
The video below demonstrates my process during the prototyping phase of this project. During the session, students and teachers entered the full-scale mock-up of the space and were asked to work and interact in whatever way felt natural to them.
The goal is to capture the user expressed need for a "home away from home." The palette involves soothing neutral tones and bright, exciting pops of blue and yellow. The natural woods and series of zestful, unique fabrics are reminiscent of those you might find in your own home. The space needs to feel comfortable, inspiring, textural, and inviting - the opposite of the stark, white office space from your nightmares.
I built a three-dimensional, to-scale model of the space. I developed the form of the three types of partitions which will guide the flow of users, contribute to both interaction and seclusion, and provide a natural, non-synthetic warmth to the space. These partitions will have a role in this particular space, but will also be installable in other commercial or institutional spaces.
The partition design is a scalable product offshoot of the individual space design, which allows any organization with open space to create a more collaborative, creative, and natural atmosphere. There are three attachable partition types with varying material choices. Here I built a full sized model of a partition type to understand the physical scale. I then modeled each shape and material option in Solidworks to create a catalogue of partition choices.
Below is a video walk through of the space. The space has been 3D modeled in Fusion360 and SolidWorks and was then rendered and animated in Keyshot. The goal of this exercise was to give a more realistic sense of what it would feel like to walk around in the space.